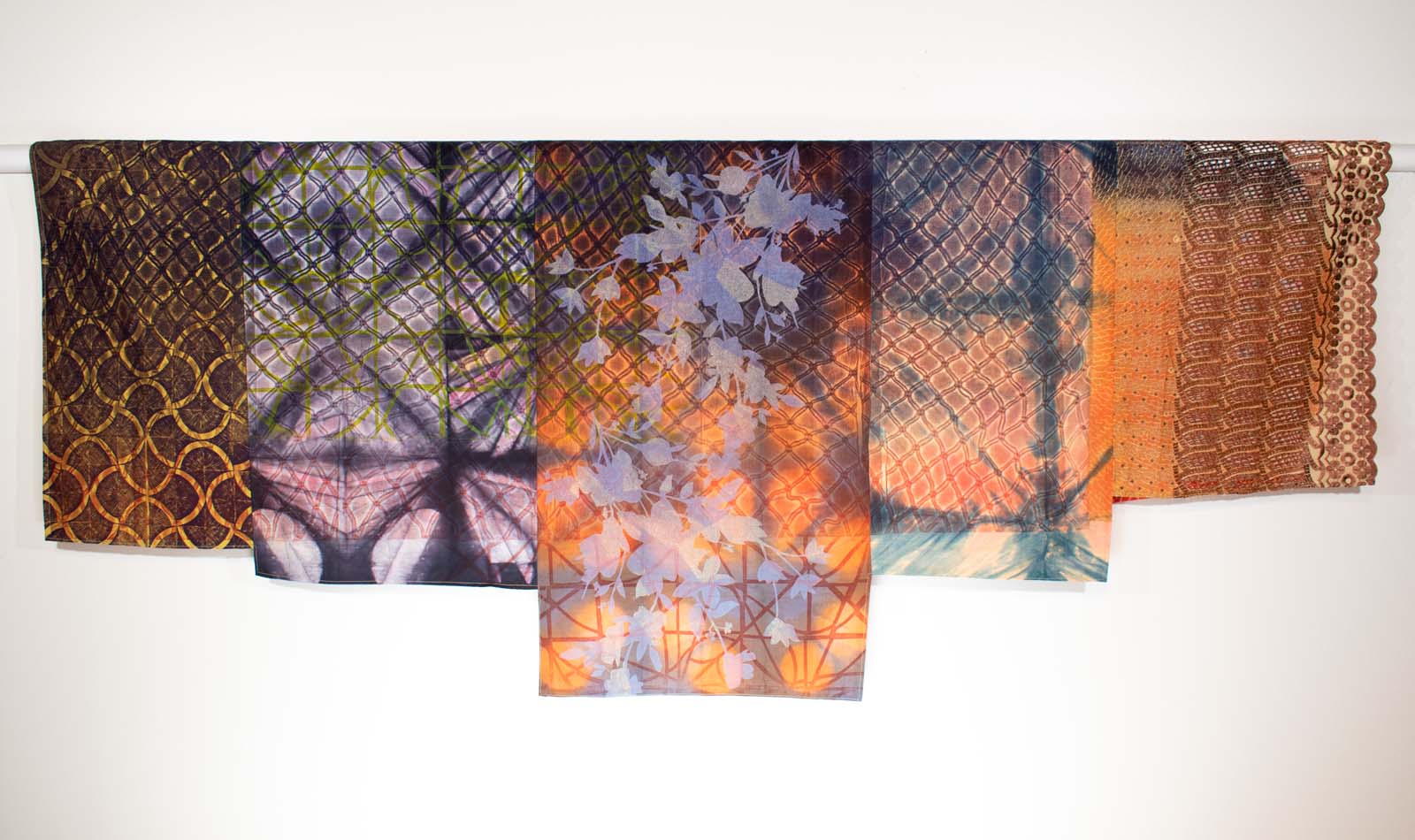 Melissa Gill
The Net
2020
Intaglio, stencil print, diffused relief, shibori dye on cotton, silk and lace
21 x 57 inches
Courtesy of the artist
Melissa Gill earned her undergraduate Art degree from the University of Arizona in 1994. Though she enjoyed photography and drawing courses, Gill ultimately chose a printmaking emphasis, partially because creating prints allowed her to integrate the skills associated with the other two mediums. After graduation, she attended Purdue University and earned an MA in Printmaking in 1997. She then completed a three-year MFA program at Indiana University Bloomington, graduating in 2000 with an additional degree in Printmaking and Drawing.
After finishing her formal Arts education, Gill held various visiting professor positions and spent a year teaching conversational English in South Korea. In 2008, she began teaching at Hendrix College and continues to work as a full-time professor, teaching a variety of Drawing, Printmaking, Freshmen, and Senior Seminar courses. Gill says her favorite part of working at Hendrix is the small class sizes and intimate learning environments, which allow her to work closely with students over the span of four years.
Gill, the recipient of numerous faculty grants, continues to explore her artistic interests through travel. In 2011, she visited New Delhi, India to study relief printmaking. In 2015, she earned a sabbatical grant to conduct research at the Textile Museum of Canada and to work as an Artist in Residence at the Spark Box Studio in Ontario. Additionally, she periodically receives funding to take students to the Southern Graphics Council International's annual conference.
The Net comes from Gill's most recent body of work, which consists primarily of fabric collages. She creates small pieces of dyed fabric, which she then stitches together like a quilt. Gill prints directly onto this material from blocks and stencils, thus tying the disparate pieces together both compositionally and symbolically. In the case of The Net, she printed from a macramé piece that she created. The work loosely references a structure of a kimono and the shape of the human body.
The piece's title references Indra, the Hindu king of gods, and his net. The net, an infinitely large configuration of cords, has a multifaceted jewel at each vertex, and each jewel reflects all the others in the net. This metaphor describes the interconnectedness of the universe and all that exists within it.